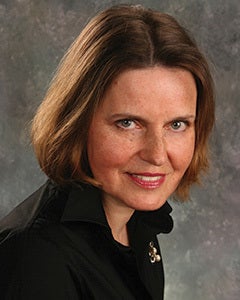 You've always thought about going to an opera, but, well, it just seems so darned…operatic.
Too big, too much, not relatable.
And then, of course, there's Tosca.
Boston Lyric Opera Artistic Director Esther Nelson describes Puccini's opera as the "gateway drug" for newcomers to opera, because once you hear it, you're hooked.
Nelson took time to speak with HuffPost about the Lyric Opera's upcoming production of Tosca and to explain what makes it perfect for the first-time operagoer.
Michael: What is it about Tosca that makes the opera appealing to folks who are not opera fans just yet?
Esther: With Tosca, you have a sense that we're having real people in front of us with real human struggles. Puccini had a tremendous sense of drama and theatricality. Also, his music is tremendously accessible to today's ears.
Michael: What's Tosca about, and how is it different from Puccini's La Boheme?
Esther: Puccini himself stated that La Boheme was an opera about powerful human emotions, and the villain in Boheme was fate. That was why it has a fatal ending; it's not something we control. In contrast, Tosca, according to Puccini, was all about passion and that's a subtle difference. The struggles that the individuals and protagonists face are man-made.
At one point or another in our lives, we have to deal with extraordinary circumstances. Whether it is in fact an illness or whether, as in Tosca, it is that individuals are called upon to take extraordinary measures, is something to which all of us can relate.
Michael: What's the plot?
Esther: Tosca has two passions. She has a passion for her lover, Cavaradossi, and the passion to be a singer. Her lover on the other hand, also has various passions. Among them chiefly is his desire to participate in the political revolution. And he's very much on the side of Napoleon coming in and liberating society from the monarchies. Of course, most of those who were enamored by Napoleon later learned that he was not a perfect conqueror. But at that point it is about Cavaradossi's passion for a better society. And he also, obviously, has a passion for his love for Tosca.
The Chief of Police, Scarpia, on the other hand, has a passion for power.
So in that setting there are real people who are called upon to make choices.
Michael: Better them than us!
Esther: Exactly! Good theater appeals to us because we see on stage either something we can relate to or sometimes something that most of us have been fortunate not to have to been through. We don't have to make decisions of that magnitude that Cavaradossi and his friend, who know they are risking their lives if they continue with their passion for a better world, must make. They are risking their lives, in fact, they are losing their fight.
Most of us don't have to fight for something to that extreme, but we know that we might at any time be called upon. In the back of our minds is the question, how would we make the right decisions? And are we capable of making a good decision in the face of danger? And that, I think, is what resonates with the public when you see these are real people. That could be us. Whether it's in 1800, 1900 or 2017. Subscribe to The Morning Email.Wake up to the day's most important news.
Michael: What was the world like when Tosca was composed?
Esther: He set the opera in the summer of 1800's, coming on the heels of the French Revolution. Puccini wrote it during a time of political strife in Italy. In fact, the premiere had to be postponed because of an anarchist threat.
Very often, Tosca is set in times of fascism, whether it be in Germany or Italian fascism. In fact, our last production was set during the fascist era in Italy. So it's always going to be with us, isn't it? That's is the power of theater. It's always a question we have to confront ourselves with.
Michael: What kind of preparation should the first-time operagoer do for Tosca?
Esther: Any good production, whether it's theater or a musical experience on opera or dance, if it's well done, it actually doesn't require any preparation. It's not like class or a learning experience. It captivates you. And we have supertitles, so you know what they're singing about!
Michael: You don't use microphones in your performances.
Esther: Our singers do not use amplification. So the audience is actually getting to experience the full power of the human voice, without any amplification. And they'll hear how a single voice can tower over an almost 60-piece orchestra and a large chorus. It's pretty amazing if you have never heard this before.
Michael: Tell me about the staging.
Esther: Our stage director determined that it's going to be set in the original time that it was written to be in, which is 1800 in Rome. And so you have these beautiful references to real locations specified in the opera, locations still today in Rome. And the costumes are absolutely gorgeous. They're Empire. They're certainly referencing the time.
So you have not only tremendous eye candy, in addition to the sound, and a captivating story. So it is often actually an overwhelming experience. And of course we also have tremendous singers. We're proud of that.
Michael: Elena Stikhina is making her American debut in this production of Tosca.
Esther: She's just the kind of Tosca you want, you know. Tosca's often portrayed as a mature diva. She's not! She's a young woman who is overwhelmed with the circumstances she finds herself in. And her famous aria when she says, "All I want is to live for Art and Love." It's like, how did I get myself in this situation? I didn't want to be in the political turmoil. I just want to be with my lover and I want to sing and here I am suddenly pulled into political turmoil. She will be amazing. First-time operagoers will be glad they heard her!
Boston Lyric Opera's Tosca opens Oct. 13 at the Boston Opera House. For further information, www.BLO.org.