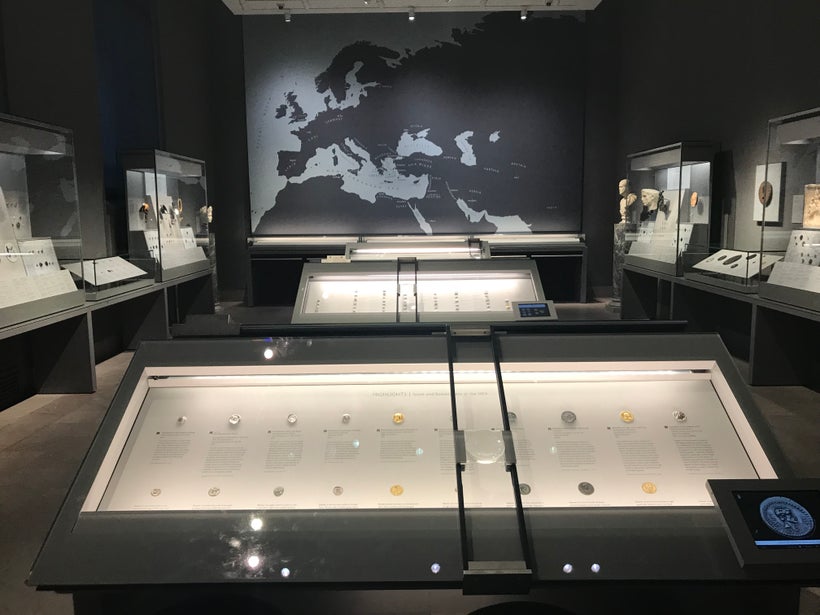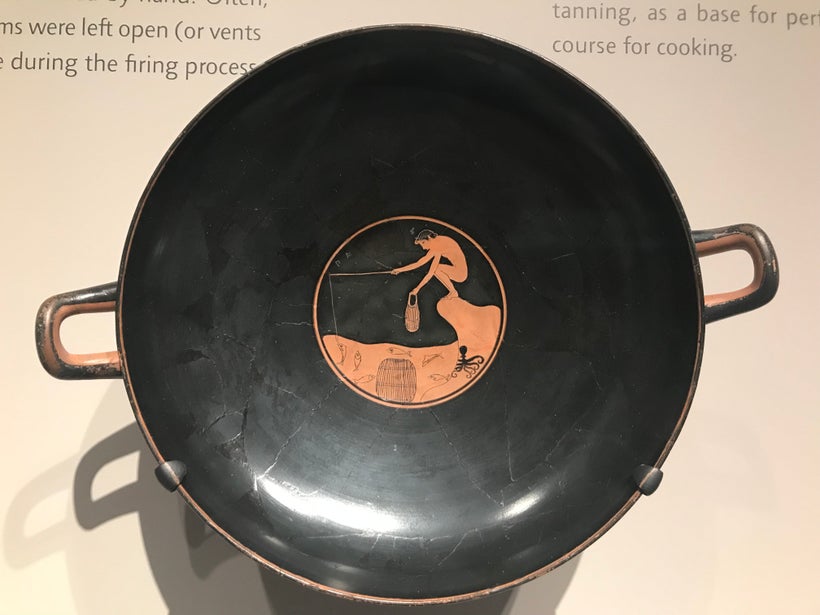 Boston's Museum of Fine Arts boasts a collection of ancient Greek and Roman art second only in the United States to that possessed by the mighty Metropolitan in New York City.
There's a reason why—Edward Perry Warren, an Oxford-trained Classicist and member of a prominent Boston Brahmin family –was a recognized aficionado of ancient Greek art.
Together with his partner and companion John Marshall, Warren was both the most active and shrewdest antiquities collector at the turn of the 20th century.
At practically every auction from 1894 to 1904, before the Metropolitan got in the game, Warren's unerring eye for quality and close ties to the Museum meant that one treasure after the next was headed for the nascent MFA.
This new gallery is part of an unfolding plan to reinterpret and reinstall the renowned Greek collection. Some of the objects have never been displayed before.
The idea behind the new exhibition is not simply to dazzle the museumgoer with spectacular pieces, although the pieces are indeed marvelous.
The gallery's real goal is to use the pieces to show how people in ancient Greece, particularly Athens, more than 2,500 years ago, actually lived their daily lives.
How did they work? How did they live? What was the real role of women? What about children? What about warriors?
The exhibit focuses on each of these topics, providing a fascinating, distant mirror to the way Athenians lived, loved, fought, played, and mourned.
One of the most intriguing pieces, a large vessel, shows a group of women, naked, clearly preparing for, or recovering from, athletic endeavor.
"Nudity was a 'costume' that privileged males of the time 'wore' when playing sports," says Phoebe Segal, the Mary Bryce Comstock Curator of Greek and Roman Art.
She and Christine Kondoleon, the George D. and Margo Behrakis Senior Curator of Greek and Roman Art co-curated the gallery.
"In Athens, where this vase was made, women not only didn't compete in athletics, they didn't even attend games," Segal says, "which makes this vase quite mysterious!" Was there a tradition of female nudity in sports that we don't know about?
"Or was this a sort of private joke that men attending a symposium back then would have found funny? We'll never know."
You can travel the world and see Greek art everywhere, but you'll never see anything quite like the display of ancient Greek art related to children that you'll find in the new gallery.
There are tiny little Greek vases, just the right size for children. There are toys, dice, and other objects that children played with or that commemorated them.
"There's a certain sadness that goes along with this display," Segal notes. "Many of these items were buried with children, because infant mortality, of course, was quite high back then."
Because the focus is on Greek art as a teaching tool about the way people actually lived, the MFA has the freedom to display items that otherwise would never have seen the light of day.
These include a fishhook and a tool for mending nets, to give visitors a real feeling of life 2,500 years ago.
The gallery shares its space with a collection of Greek and Roman coins considered second to none in terms of quality in the entire world.
"It makes sense that the coins are displayed here," Segal says. "After all, back then, they were either using the coins to pay soldiers or, when their frequent wars would end, they would melt down warriors' helmets and other tools to make more coins. So there's a symmetry here."
Much of the work on display was created during the true heyday of archaic and classical Greek art, from roughly 550 to 300 BC. But all of it tells a story, and the story offers endlessly interesting comparisons between our life and theirs.
There's always a tendency, when visiting a museum, to shoot past the unfamiliar on the way to the artwork we already know.
So plan a trip to the MFA, and give yourself enough time to visit gallery 212A-B, where you can immerse yourself in the experience of what daily life in ancient Greece was all about.
For further information, http://www.mfa.org.